Dr. Alexi Kossi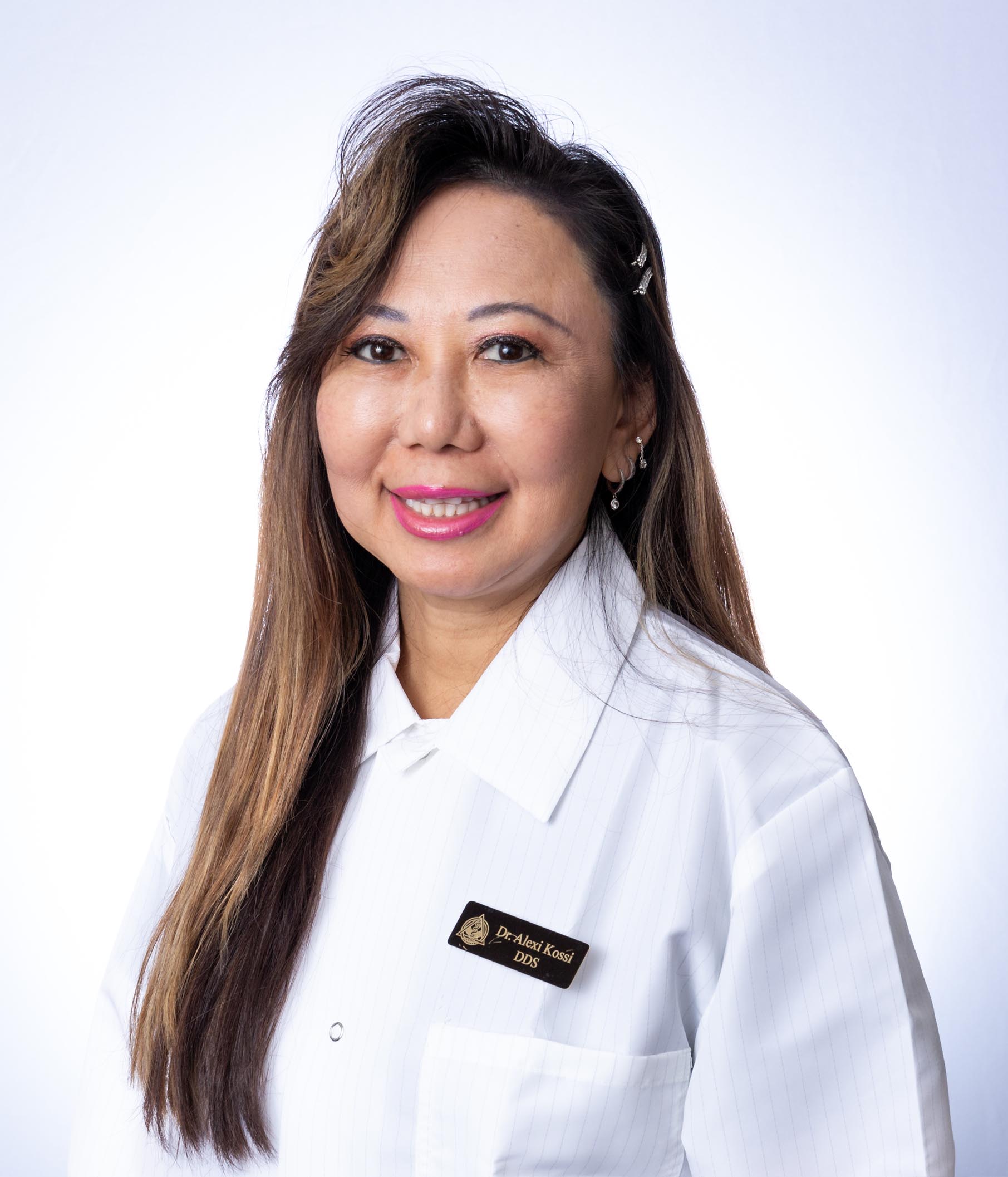 Alexi Kossi, D.D.S. attended La Sierra University in Riverside, CA. She graduated Cum Laude with a Bachelor of Science degree in Biology. After graduation, she continued her education in the Public Health Program at Loma Linda University before earning her Doctorate in Dental Surgery from the Loma Linda University School of Dentistry. With her passion to provide her patients with the best in treatment care and provide patients with a winning smile, she furthered her dental training with additional orthodontic courses at Progressive Orthodontics in Orange County, CA and at Mid-America Orthodontic Society in CA. In addition to her extended training in orthodontics, Dr.Kossi has taken numerous continuing education courses to stay current in advances in the dental field and to continually refine her dental skills.
Dr. Kossi is an active member of the American Dental Association (ADA), California Dental Association (CDA), San Fernando Dental Society (SFDS), and an Honored Professional in the Nationwide Register of Who's Who.
Dr. Kossi is extremely dedicated to providing personalized and gentle care whilst maintaining optimum oral health for all of her patients. When not attending to the needs of her patients, she enjoys reading on her Kindle, traveling, camping in the great outdoors, and pampering her Maltese dog, Jazzy.
Dr. Laila-Christine Assad
Dentist
Dr. Laila-Christine Assaad joined Smile City Dental in 2015. She is a warm and compassionate dentist who was born and raised in Montreal, and recently moved to Los Angeles after practicing dentistry for the past 6 years in New York City. She completed her college education with honors and decided that being a dentist was how she wanted to contribute to the health community, receiving her dental degree from the University of Montreal in 2009. Following graduation, she chose to complete a general practice residency at Columbia University's New York Presbyterian Hospital, one of the top 10 hospitals in the United States. This further expanded her capacity to perform complex procedures and treat medically compromised patients.
Dr. Assaad is devoted to her patients and believes that a beautiful smile is the best asset one can have. A healthy smile not only makes you feel and look better, but it is also essential to your overall health. It is important to Dr. Assaad that her patients are happy, comfortable, and understand the reasons for treatment and how to promote good oral hygiene
Dr. Assaad is a member of the American Dental Association, the California Dental Association, and the San Fernando Valley Dental Society. This allows her to stay up to date with advances in dentistry, and provide the best treatment suitable for her patients. Dr. Assaad is an Invisalign certified dentist and has already transformed many smiles in her career.
Dr. Assaad is acclimating very well in California and enjoys the warmer winters. In her spare time, she likes reading and going to the beach, hiking, kickboxing, experiencing new restaurants with family and friends, and traveling, of course!
Dr. Robert Lim
Dentist
Robert Lim, D.D.S. graduated from Harvard undergrad in 2002. After a brief stint in New York for investment banking, he went back to UC-San Francisco for dental school, graduating in 2011. He finds his new career path deeply rewarding, helping his patients attain the oral health and beautiful smiles they deserve.
A native of Massachusetts, he does miss his Boston sports teams and autumn colors. However, this is far outweighed by no winters in California, and the tastiest Korean, Japanese and Mexican food nearby. He is also a big fan of In-N-Out.
Dr. Lim is a member of the American Dental Association (ADA), California Dental Association (CDA), Los Angeles Dental Society (LADS).
Dr. Madeha Salahuddin